Priyanka Reddy Murder Mystery: The campaign to provide justice to the Doctor Priyanka Reddy Hyderabad veterinary doctor Priyanka Reddy murder of justice campaign started in Hyderabad. The burnt corpse of the vet lady doctor was found near the underpass of Shadnagar on the outskirts of Hyderabad.
Sister was phoned to inform about the scooter spoil,
dead body found near Shadnagar underpass in Hyderabad
Priyanka reddy murder
A preliminary inquiry by the police revealed that Priyanka had been raped and murdered according to an earlier plan. The accused, who noticed Priyanka Scooty parked near the tollgate, sketched the trap. The accused, already intoxicated with alcohol, punched Scooty and waited for Priyanka. Priyanka came to her and started a puncture drama. Let's find out when Scooty was parked near the original Priyanka Tollgate, when it was reversed when it fell into the trap, and when it was murdered.

Priyanka, who completed her three-and-a-half-hour duties on Wednesday, November 27, landed on her scooter to go to Gachibowli after five and a half hours. Six and a half hours later, the Scooty Park was parked near the Tondpalli tollgate. However, the accused, already under the influence of alcohol, were sketching the trap after observing Priyanka Scooty's park.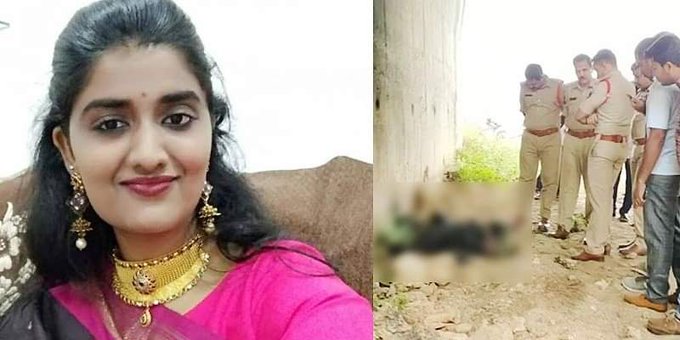 Priyanka left after 6:40 pm, punctured Scooty and waited for her arrival. However, Priyanka went to the beauty parlor in Madapur at 7 pm and finished work after 8 pm. At 9:15 pm, Priyanka Tolgate approached and all the accused started a puncture drama. Priyanka's main accused, Mohammed Pasha Madam, has spoken about your bike being punctured. He sent a scooter to one of the accused of puncture roasting. It was then that Priyanka phoned her sister and said she was scared. Priyanka's phone switched off at 9:45 pm. Priyanka was then tortured and tortured by the accused. Massacred and killed. Between 12 midnight and one o'clock, Priyanka's dead body was rushed in a lorry. The accused, who also carried scooters, bought the patrol and burned Priyanka's dead body under the Chattanpally Bridge.
Priyanka's parents, however, turned to the police on Wednesday night and filed a case in the early hours of Thursday. Priyanka, who was found dead at four and a half hours early in the morning, was reported to the police by the locals and subsequently identified as Priyanka. Soon after, the police, who were on the lookout for the accused, spotted Scooty on the highway near Hosur at around 10 pm on Thursday.
On Friday, November 29, police interrogated Priyanka's case and arrested three suspects Chennakesava, Jollu Naveen and Jollu Shiva along with the main accused Mohammed Pasha. All the accused were residents of the Makhtal Zone of the Narayanpet district while the village of Pashadi Zakler was the village of Chennakesavu, Naveen and Shivdi. However, people demand that Priyanka be accused of brutally massacre, patrol and burn.